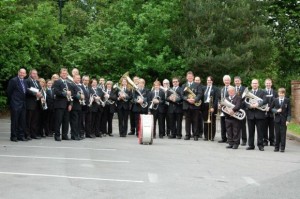 The journey of a thousand miles begins with one step.
Lao Tzu
For the first time since 1969 the band competed at the Regional Qualifiers, and while the result of 19th was not as successful as we could have hoped it was our first step towards fulfilling out 10 year plan of reaching the 2nd section.
There are two important questions that need to be asked after any contest, did you play as well as you hoped and is the band stronger now as a consequence of the hard work involved in the preparation.
We're proud to say the answer to both questions is 'Yes'.
Over the last year we have built the band to this point where we can compete, and now we will continue to build the band to the point where we will win.
We will next be competing at the West of England Bandsmen Festival at Bugle in June. We have some positions available if you are looking for a band to join, cornets, a 2nd baritone and a BBb bass are especially welcome!