Pendeen Silver Band is the most Westerly brass band in the United Kingdom.
We are an aspirational 3rd section Cornish brass band which takes pride in the fact that we are a true 'village' band, receiving from and giving constant support to our local community.
The Senior Band practices on Mondays from 7:30 to 9:40pm at our purpose built bandroom in Pendeen.
If you wish to book the band to make your event extra special either drop us a line or complete our online booking form.
Pendeen Band was first formed in 1892 and was one of 40,000 then in existence across the UK.
Locally, there were drill halls in Newbridge and St. Buryan, which both had bands. In 1892 the foundation stone of Carnyorth (Board) School was laid. Soon after on 10th.January 1893, the Wheal Owles disaster happened. Pendeen church started an organ fund, for like St.Just, the hymns and psalms were accompanied by strings and woodwind. In the area, there were at least five bands. Pendeen was then classed as a part of St. Just and rarely had separate recognition.
Tea treats were the highlight of the year and the "Cornish Telegraph" of 20thJune 1892 records:- "On Midsummer Day the Weslyan Sunday School, led by the band of the Rifle Volunteers, followed by the Free Church School, cheered everybody with the strains of the band, lately formed under the leadership of Mr. Thomas H. Andrewartha, which appeared in public for the very first time. There was, of course the usual 'Tea'."
The following year the Rev. F. J. Horsefield came to Pendeen from Manchester, for a year and wrote 'A Life in a Cornish Village' and on page 82 we read. "Dissenters have their Sunday School parades accompanied by various bands, followed by tea parties on a large scale. On Midsummer Day the Church people hold their festival with the schoolchildren perambulating the district to the music of two brass bands, afterwards having buns and tea in a field opposite the Church – (fun, bonfires and gunpowder explosions) The hills resounded to the music produced by the bands".
Pendeen Band played for the non-conformists. The organist at Carnyorth Free Church, Mr. J. H. Ellis, known locally as 'Boy Jim Henney', got the Pendeen band under way in 1892.
Some Notable Occasions
1980 – Playing during HM The Queen's visit, accompanied by Prince Philip and Prince Andrew, to Geevor Tin Mines
1986 – The Band, with others, led a protest parade through Central London against the closure of Cornish Tin Mines.
The Cornish Gorsedd Award (1986). Presented to the Band by the Grand Bard – a 28 inch Copper Shield awarded in recognition of successes in local and national competitions.
1992 – Playing at the Service of Dedication and Naming Ceremony of the Sennen lifeboat 'The Four Boys' conducted by HRH The Duke of Kent.
1997 – Leading a protest march through London against the closure of Cornish Hospitals.
2012 – Entered the Whit Friday competition in Yorkshire.
The Bandroom
The band has occupied a variety of band rooms including a barn, an old smithy, Charlotte Warren's kitchen in Trewellard (whose great-great-grandson, Jonathan Keverne, currently plays with the band), and the local Church Schoolrooms.
Later, a room with a chequered history in St. John's Terrace, Pendeen, was purchased, which the band vacated when better accomodation was offered by the Geevor Mine management. When the mine was closed, the band came under the threat of eviction, but 'squatted' in this Geevor accommodation until the village playing field Trustees offered a building plot on a corner of their field.
Planning permission was sought and granted and a purpose built band room, which the band own, was built. Many thanks must be extended to all the local people who wrote so many letters of support and organised a well-subscribed petition supporting the band room project. Thanks are also due to the Trustees of Trewellard Chapel, St. John's Ambulance, Pendeen and the Pendeen W.I., for their offer of temporary accommodation, if the band was evicted from Geevor before the band room was finished.
The new building was completed and the opening ceremony performed, by Mrs.H.Derrington, in September 1995. Mrs.Derrington, being a Trustee of both the playing field and the band, played an invaluable part in fundraising for the project.
This guide is intended to help you to make a success of your event by hiring Pendeen Silver Band. The Band pride themselves on their high standard of music, and also enjoy performing and sharing their music with others. Their performance itself, however, is only part of the overall event, and in order that we make the best possible contribution we ask that you spend a few moments to check through this guide. The guide consists of the following parts:
How to get the best from the Band – This describes in more detail the points to consider when hiring the band.
Event Checklist – this is an overview of the key details of your event. Please complete and submit this form. This should ensure that both parties are clear about our respective commitments well in advance of the event.
How to get the best from the Band
What you want the Band to do
It's best to have a clear idea of what you want the band to do.
What is the event – date, times, location?
Do you want a full concert?
Will there be a formal audience for the band (in which case the band may want to prepare a compere and a programme.)
Do you just want background music? If so, to what kind of event?
Is the band accompanying singing or other activities? (In which case greater detail and liaison will be required.)
Are additional groups (musical or other) also taking part in the same event? How will the time be shared?
How long do you want the band to play for? With what intervals?
What to provide
For nearly all events the Band will require seating (usually around 25 brass and 2 percussionists).
Chairs with arms make things difficult for brass players, so it's best to avoid them if at all possible.
The band formation used is shown below.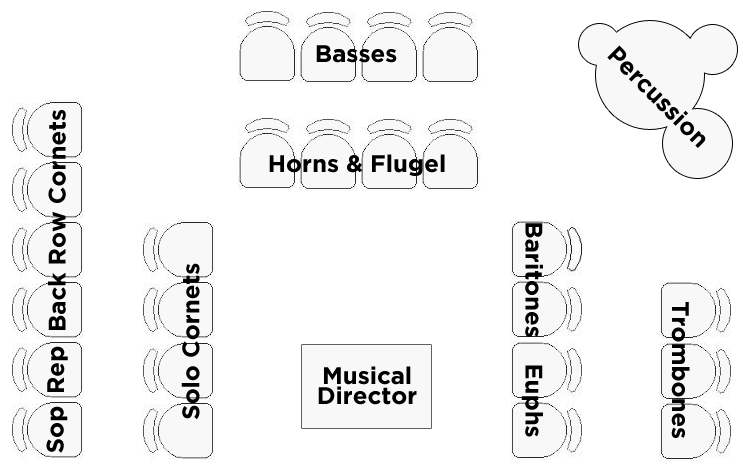 The Band would ideally expect to occupy a space of around 5m x 5m, though smaller spaces may be accommodated. We are able to play on some 'tiered' stages, but this is dependent entirely on the size and location of the tiers. This must be discussed and agreed with the band in advance.    
The Band will need a back room or similar space to congregate and warm-up before playing, including somewhere to store the instrument cases.
It is useful to inform the band how they will access the venue – will there be a long way to carry equipment, or can the hall be accessed more easily? Is the venue at ground level, or is it on a higher floor, in which case is there a lift available? These points will then be borne in mind when the band is assembling its programme.
The Band will usually arrive by private cars and will need somewhere to park. Instructions of where is suitable may be useful. Close vehicular access to the venue for the Band's larger instruments and equipment would be appreciated. A coach may also be used by the Band for longer journeys.
Light refreshments are always welcome – particularly at intervals – as playing is thirsty work! If you would like to provide the band with more substantial refreshments, please do that at the end. It's not good practise to play immediately after eating and / or drinking well!
Outdoor engagements
The open-air is a good place for a brass band in the summer, but attention should be given to the location.
Drums particularly are vulnerable to extreme heat and rain, so a shady spot or under cover of some kind is preferable.
It is useful if the playing area can have some shelter from wind. Music stands carrying music are particularly difficult to deal with in even breezy conditions, so any shelter is always appreciated. The Band will bring their own pegs to hold the music on the stands.
In the case of wet or inclement weather, what will happen? Will the event be cancelled, or moved indoors? Will the band still be required? If the band's services are cancelled, what notice would we receive, and would there still be payment available?
From a practical point of view, the ground needs to be relatively flat. Not only is it important for the physical position for somebody who is to work sitting down for an hour or two, but music stands are top heavy and can be unstable if the ground is not good. If you want the band to play on grass, please bear in mind that chairs with thin legs, on soft ground quite easily sink into the turf. This can damage the grass, not to mention falling players and instruments!
You need to think what will be going on around the Band. For safety, we should not be placed next to a busy road. Think also of animals – some of which can be startled by a band if they are not used to them.
Timing
Pendeen Silver Band is an amateur organisation and most of their players have full-time jobs, so it is often difficult to get the Band together during working hours.
We take bookings up to a year in advance, occasionally longer. Please book early.
At minimum please give a few week's notice. The band is busy throughout the year with a wide range of activities and performances.
Once at the venue, the Band will require time to set up – at least three quarters of an hour prior to the playing time, possibly longer in certain circumstances. If there is a shared arena, then details will need to be resolved of how and when the interchange between performances will take place.
Percussion is always a challenge – it takes quite a while to set up properly. Modern brass band repertoire demands quite a range of percussion, however this will depend on the programme for your event, and in some cases the space available.
The Band prefers engagements that have a reasonable length of playing required. An event that only demands 15 or 20 minutes of music is not ideal. An hour or two is more usual, and ensures that you get the best value from the Band. A typical format concert would be 45 minutes playing in each half, with a 15-minute break. Please bear in mind that extremes of heat and cold heat make sustained playing without a break more difficult.
Payment
You will not have to pay professional rates for the services, however our performances are always carried out in a professional manner! We provide excellent value for money – a high standard musical performance for a reasonable fee. An appropriate fee will be quoted to you once we know in outline what the engagement entails.
It does cost a lot of money to run the Band, including music, rehearsal facilities and of course instruments, which are in excess of £1000 each. The funding for this comes from our engagements and other fund raising activities. Individual players do not receive payment.
We can really make your event come alive, so this is worth paying for.
Contacting us:
If you have any queries whatsoever about this guide, or any other aspect of hiring Pendeen Silver Band, please contact the Secretary.
Event Checklist
Please provide as much information as possible

Beginners Lessons
Learning to play an instrument, any instrument, is a very rewarding experience and something that you can keep with you throughout your life. It can be just a hobby to keep yourself amused or it can be taken further to entertain family, friends or even whole audiences.
If you wish to learn to play find out more about our beginners lessons.
Beginners Lessons take place on Tuesdays from 6:30 to 7:20pm.