A look at the bands history with this article that was originally published in 1989.
---
LOCAL BANDS ARE AN ESSENTIAL PART OF COMMUNITY LIFE IN CORNWALL FIRMLY BASED ON AMATEUR ENTHUSIASM AND A GREAT CORNISH TALENT FOR MAKING MUSIC. THERE ARE SOME FAMOUS NAMES AMONGST THE 45 BANDS IN THE CORNISH BAND ASSOCIATION, YET NO BAND HOLDS TOO MUCH PLACE OVER ANOTHER EVEN THOUGH THE PRESTIGIOUS BAND CONTESTS ARE GIVEN LOCAL EDGE BY HEALTHY RIVALRY.
PENDEEN SILVER BAND IS TYPICAL OF MANY OF THE SMALLER CORNISH BANDS IN ITS ENTHUSIASM FOR MUSIC AND MORE 1M IN ITS VALUED CONTRIBUTION TO THE LOCAL COMMUNITY.
DES HANNIGAN WENT ALONG RECENTLY TO SOUND OUT PENDEEN BAND'S CONDUCTOR RUSHWORTH HARRY ON WHAT KEEPS A LOCAL BAND IN TUNE WITH A GREAT CORNISH TRADITION.
PHOTOGRAPHS BY ANDER GUNN.
PENDEEN VILLAGE lies on the north coast of the Land's End Peninsula. It seems ideally suited to a wind band. Overlooking 3,000 miles of glittering and airy Atlantic, Pendeen runs parallel to the famous tinner's coast for a straight Cornish mile. Ideal marching country too; this is the old North St Just parish where you can start at the settlement of Bojewyan, put your best foot forward and hardly bend for a mile and a half, until the tumbling corners of Camyorth. That clear Atlantic air also adds sparkle to such silver music.
Pendeen Band has a long history that dates from the middle of last century when it was known as the North St Just. There is a surviving photograph of that mid-Victorian band pictured outside the original wooden church that was built by the Rev Robert Aitken, the remarkable Victorian cleric and medievalist. Aitken came to the district in 1849 to build his stone ground church in the style of the famous cathedral on lona. He would surely have been a great enthusiast for band music.
Before 1895 there is little record of band activities at Pendeen. But in that year a fresh start seems to have been made under the influential guidance of Mr James Henry Ellis. Meetings were held in 'Charlotte Warren's grocer's shop' in Levant Road where a room was made available; walls and roof sufficed; there was sawdust spread on the floor and there were wooden benches. Band members were used to such spartan measures since most of them were miners.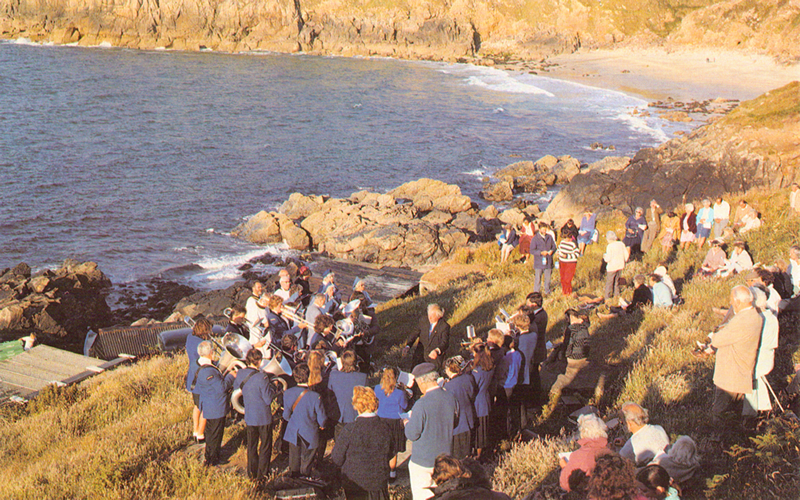 But the music transcended everything and wonderful glimpses remain of countless 'tea-treats', of band outings to Logan Rock Inn, to Penzance and to St Just Torch Light Carnival in 1910 when the band arrived in 'Tom aIds' four­horse Jersey car'.
Somewhere along the line, as Pendeen became the recognised focus of mining on this most famous of Cornish tin coasts, the band became established under the name Pendeen. Today it remains as splendidly parochial as ever but with a county-wide reputation and a wonderful spirit of enthusiasm for the 'people's music'.
The band's conductor for the past ten years has been Mr Rushworth Harry, a local carpenter who was born within sounding distance of Levant Mines on the Trewellard Cliffs. Rushworth Harry started playing with Pendeen band when he was 11-years old, after being encouraged musically while at Pendeen school.
"There was music in the family," he says; "I suppose 1just wanted to play an instrument. But I had to work at it." Music has been his lifelong interest ever since and Pendeen Band owes much of its happy style to his personality.
Rushworth's antecedents are impeccably Cornish, although his first name is a delightful intrusion from the north of England from where his great­grandmother came, bearing the splendidly Bronteish name of 'Miss Rushworth'. Thereafter, it became a family Christian name, well-rounded and sounded; somewhere between tenor and bass.
As a conductor, Rushworth Harry has immense warmth. Where some conductors are formal and precise, he is always expressive. His head moves with the music, his arms embrace the band, drawing out the heart of the music totally, loving every moment as the baton flickers and wings through the air, shaping the very sounds of Arnhem or the lovely Colne, the lively Aces High or Super Trouper, or intently, with formidable test pieces such as A Malvern Suite.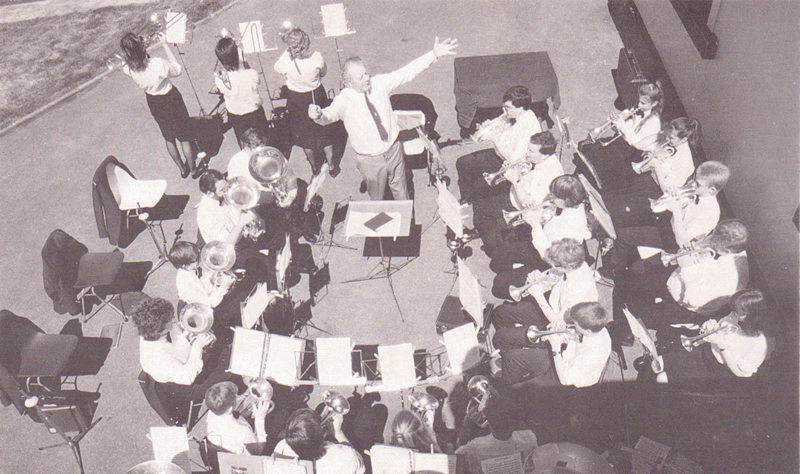 Last century, Rush worth's grandparents moved to Brazil from the mining country round Breage near Helston, following in the great traditions of hard-rock mining. His father was born in South America but eame home with the family when he was two. Rushworth ean remember Cornish aunts, stolidly rooted in Trewellard ground, who could still converse fluently in Hispanic. They put him in his youthful place when he came home from the Merchant Navy eager to impress with a smattering of Portuguese.
Rushworth Harry's love of music is total; his dedieation to the dedieated Pendeen band equally so. It is a life's commitment; band practices twice a week, regular concerts, perforn1ances at tea-treats, carnivals, charity events and of course the all-important contests that give wind bands that extra boost. Cornish communities do not always go in for sport. but reserve their local enthusiasm for their bands. And although Pendeen people are modest about achievement, there is no hiding the quiet pride in their band which, this year especially, has done well in competition.
From the big Cornish contests since last September, you can hear the music march all the way back to the Pendeen clifflands, flow up the moorland hills and ring round Aitken's handsome church walls.
A local band like Pendeen cannot match the recruitment potential of such outstanding top-level bands as Cambome and so relies on a special measure of dedication from its members. Personal commitment is the key. For Rushworth Harry such commitment became even more total ten years ago when the band's conductor, Captain Tim Richards, retired and no replacement could immediately be found. Rushworth had learned a great deal from Captain Richards and had been filling in as conductor.
"Everyone said … 'well carry on Rush, carry on'," he says with a wry smile, adding without the slightest hint of bravado; "I think we've had a good time since then, although we've had our ups and downs of course." His demands on the band are characteristically clear and straightforward; "I know it's difficult with people having so many other commitments, but all 1 ask for is their loyalty," says Rushworth. For contest work he needs that, above all else.
One thing that Pendeen Band does have is strong family groups -which is inevitable really. If you have one member of a family sounding off, the others may as well join in. Local bands spring from the community's natural need for expression. There is no better way of doing so than through music. It gives expression in the most graceful way where natural reticence is often the rule and where local people's genuine modesty precludes them from literally blowing their own trumpet. Band music tells you all you need to know about the heart of a place.
Pendeen's annual Band Week starts on a July Sunday at the famous Pendeen Lighthouse, whose principal keeper is Handel 'Andy' Bluer,' a brass band man of the old Manchester School and a long­standing player and supporter of Pendeen Band, although he has long since stood down in order to encourage young blood.
On Band Sunday, the immaculate lighthouse compound is given over to a great tradition with the band seated beneath the dazzling white tower, the compound walls hung with colourful signal flags and the green, cropped grass speckled with the colour of summer clothes in the brilliant Cornish sun. Such events are rich with nostalgia; romantic, fraternal, genuinely populist. For generations of Cornish men and women, band music has been an essential part of famous tea-treats and fairs, band weeks and processions. It is a sound that shakes the heart. Not simply the sweet poignant music alone but an accompaniment of childhood, of first loves, of distant sun­drenched summers, of lost happy moments recaptured through unbroken community links.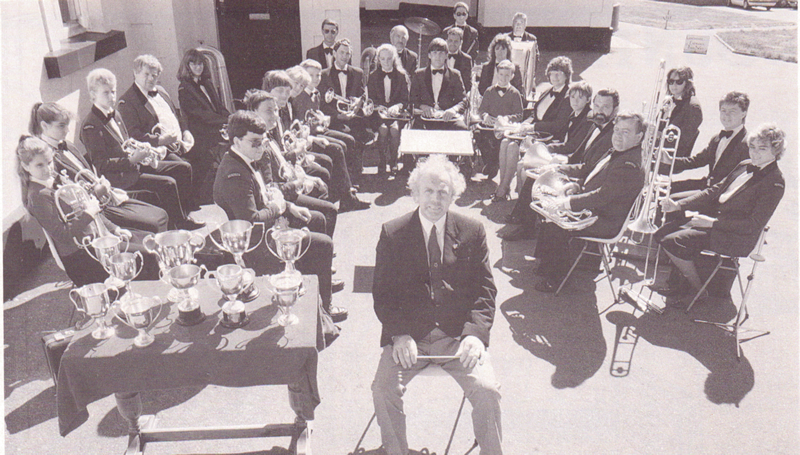 At its heart are the band members themselves and their fine musical skills that sound out the pure identity of conununities like Pendeen. Young children crouch close to their mothers as they play; parents watch intently and critically as their teenage sons and daughters concentrate hugely on the score while soloists stand only slightly apart, since the diffidence and team spirit is never forgotten, even when you are playing your heart out.
And behind it all are the years of dedication and generosity, the hard work of Pendeen's committee and the ongoing assistance of almost 100 patrons and groups like the parish and district councils of Pendeen, St Just and Penwith and of Geevor Tin Mines.
There is a belief that every farm hamlet and small village in Cornwall probably had a band at one time or another, even if it was only half a dozen merry musicians with tin whistles, the odd comet and makeshift drum; so long as there were stout lips to go with it and a sense of community. The tradition is still strong in the face of modem electronic diversions, easily seen off by the truly electric sound of a brass band on a summer's day.
For Pendeen Band and all the bands of Cornwall it means much more than the sound of music. It's the sound of home.