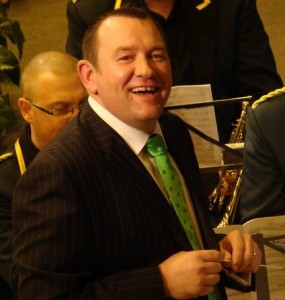 PENDEEN SILVER BAND are preparing for the National Qualifiers this March with a contest workshop next weekend (the 19th and 20th) with the inspirational Aldbourne Town MD, David Johnson.
David was born and raised in Sennen Cove.
At the age of 10 David began playing the baritone in Penzance Silver Band under the baton of Claude Nicholas and then he moved to his much loved Euphonium. At 14 he accepted the position of Solo Euphonium at Lanner and District Silver Band where he remained until he joined the Royal Marines Band Service in September 1990 at the age of 16 as a Euphonium & Cello player.
Whilst under training David studied the Euphonium under the tutelage of Steve Shimwell. In 1993, David completed his training and was drafted to the Staff Band Royal Marines Deal. His career has taken him too many countries including the USA, Canada, Russia, Ethiopia, Japan and Australia.
As well as a euphonium player, David is also an arranger of music for both the brass Band and wind Band and has been featured as a Soloist and arranger at the Royal Albert Hall at the Mountbatten Festival of Music on many occasions.
David is currently the Chief Librarian of the Royal Marines Band Service in Portsmouth. His Brass Band career has been successful as a player and a conductor with his most recent achievement being the promotion run of Verwood Concert Brass from the Fourth to the First Section in four years. He is currently MD of Championship section Aldbourne Town Band.
The weekend will focus on the techniques required to develop the band in their ambitious plans to become a 2nd section band within the next 10 years.  This year is the first time the band has entered the Nationals, although the band has had recent contest success being crowned SWBBA Champions in the ungraded section last November.
Pendeen Band's Musical Director, Darren Jenkin, commentated, "I've been incredibly proud of the progress the band has made in the past year.  We have managed to fill most of the positions in the band and we believe we have a good chance of a top placing at Torquay in March.  We are determined to continue to build on the momentum of last year that included not only our contest success but also the bands trip to the Whit Friday Marches."
Speaking about the weekend David Johnson commentated, "I'm always excited to return to Cornwall and work with Cornish Bands.  Living near Pendeen when I was at school means I know the band and some of the players well.  I'm sure they will be able to succeed in their plans and I'm looking forward to working with them".