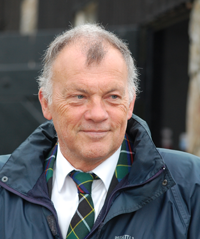 Pendeen Silver Band are delighted to announce that in the last few weeks three players have officially signed up with band. Their transfer has helped to strengthen the band as we prepare for the SWBBA Championships in November and next years National Qualifiers.
Liz and Pete Bawden have been long time "permanent" guest players with the band on Solo Tenor and 1st Baritone respectively. Their transfer from Heyl to Pendeen Band will strengthen the middle of the band. Liz has also proven herself to be quite the soloist, and has been entertaining the crowds throughout the summer with "Closest Thing To Crazy" at our engagements.
Also joining the band is Laurie Williamson (photo right) on 2nd Trombone. Coming from Illogan Sparnon Silver Band Lauries timely arrival has helped to bolster the trombone section.
The band is still looking for more players to help swell the ranks, especially basses of any flavour (Eb, BBb or Trombone). Full details of our vacancies.