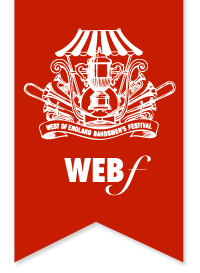 Two Centenaries are being marked at the West of England Bandsman's Festival at Bugle on Saturday June 15th 2013.
In the Second Section the Committee have chosen the March Royal Trophy, written by William Rimmer to mark the presentation by The Prince of Wales, Duke of Cornwall, of The Royal Trophy to the Festival in 1913. This remains the only one to be awarded to a Brass Band Contest anywhere in the world.
For the Championship Section the main Test Piece is English Heritage by Cornish Composer George Lloyd, who was born in St Ives on June 28th 1913. His Centenary is being marked by many special performances throughout Cornwall and the Festival is delighted to be able to pay tribute to this popular composer of attractive and accessable music for brass band.
The Training and Youth Bands have the chance to perform their own choice music, with the other Sections being challenged with music from Eric Ball, Gilbert Vinter, Philip Sparke and Hermann Blankenburg.
In recognition of the first appearance at the Festival of Philip Harper as Adjudicator, the Second Section will tackle his Gallimaufry Suite, with First Section playing his Kingdom of Dragons.
Full details of the Festival can be found at www.buglebandcontest.co.uk
…………………………………………………………………………………
Test Pieces 2013 West of England Bandsman's Festival, Saturday 15th June.
Adjudicator Philip Harper
Training Section, Own Choice – 10 Minutes playing time.
Youth Section, Own Choice.
Fourth Section, Petite Suite De Ballet – Eric Ball
Third Section, Vizcaya – Gilbert Vinter
Second Section, March, Royal Trophy – William Rimmer; Gallimaufry Suite – Philip Harper
First Section, March, Flying Eagle – H L Blankenburg Arr. Aubury Winter; Kingdom of Dragons – Philip Harper
Championship Section, Jerusalem – Sir Hubert Parry Arr. Philip Sparke; English Heritage – George Lloyd