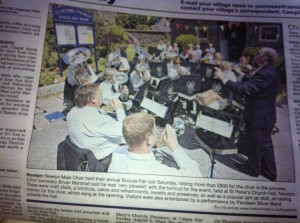 The Band has featured in both the newspaper and on radio this August.
The article (right) appeared in The Cornishman showed the band in action at the Buccas Fair in Newlyn.
The band also featured on BBC Radio Cornwall twice.
Phillip Hunt played a piece from our "First & Last" CD on 'Sounds of Brass' and three members of the band were interviewed by Kayleigh Houghton for the Breakfast Show.
The clips are below: