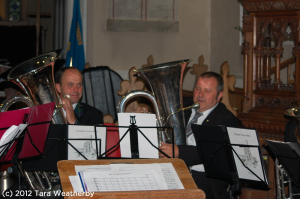 The band was joined by special guests Newlyn Male Voice Choir for a highly entertaining Band Week Concert.
Highlights of the concert included the first public performance of the training band playing two pieces, an organ recital by Annette Winters along with a fantastic set from Newlyn Male Voice Choir.
The main band themselves entertained with a range of music that included solos by Liz Bawden on Horn and Steve Garner on Cornet along with a duet from two of the younger members of the band, Megen Clemens and Charlotte Kevern.
The second half started with a dancing nun as Louise Trembath danced in costume (video) as the band played Sister Act.
Commentating after the concert, MD Darren Jenkin said, "I have to admit I can't remember a better concert- the choir were great and I couldn't have asked for more from the band- you were all fantastic! Elizabeth , Steve , Megan and Charlotte – your solo's were all superb and you should all be very proud of yourselves! Now we have to maintain the high standards we have set- entertainment and playing wise as we prepare for the SWBBA Championships and the National Qualifiers."
More photographs from the Band Week Concert.
Video of Sister Act from the Band Week Concert.