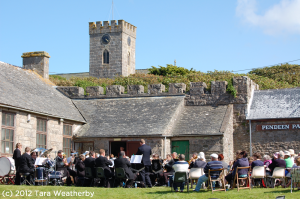 The annual Band Week has started with a fantastic "Brass On The Grass" at Pendeen Church Rooms.
For the first year for a number of years the sun was shining and the event was actually able to take place outside, on the grass!
A large crowd enjoyed the music, the sausage rolls, the cake and the raffle.
The concert was not with incident however as a strong breeze whipped away Steve Garners music mid solo. His memory was good enough however to professionally carry on whilst other band members retrieved his music.