A trio of fantastic results were achieved by the band at the SWBBA Championships at the Riviera Centre in Torquay where for the first time in our history the band entered both the Fourth and the Third sections.
The Fourth Section test piece, "An English Folk Song Suite", was received with praise from the two Adjudicators Jacob Dijkstra and Jan Van der Roost.
Good drive and style. Nice bass sound, good soprano lines and a good technique in cornets and horns and through out the band.
For the second year running the bass section of the band won "The Best Set of Basses" Special Award.
Jacob Dijkstra rounded off his comments with:
An enthusiastic performance with good technique and control.
The band were delighted that their hard work in preparation resulted in such positive comments and the crown of SWBBA Fourth Section Champions with first place out of the seven bands entered in the section.
The band also entered the Third Section for the first time playing Paul Lovett Coopers "Dark Side of the Moon". Their performanace was praised by the adjudicator with the comments:
Nice atmosphere. Some good potential in the band. Good luck.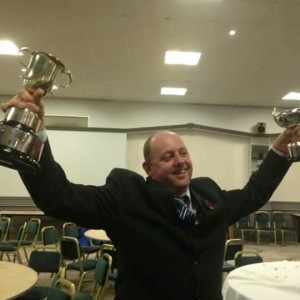 The band were delighted with their finish of fourth place in this section which demonstrated the exceptional progress that the band had made since returning to contesting at the SWBBA Championships in 2012.
Commentating after the results Darren Jenkin, the bands musical director, commentated:
A very long but very successful day. Winning the fourth section and best set of basses award alongside entering the third section for the first time in over 20 years and coming fourth. One very happy and proud stick wagger and one very happy band! Well done and thank you all for your hard work!